TopBuild Corp. BLD is well poised for growth given its unique business model combining both installation and specialty distribution, operating efficiency along with strategic buyouts.
Given the strong performance, shares of this installer and distributor of insulation and other building products have outperformed the industry over the past year. The 2022 earnings estimates for BLD have moved upward to $15.36 per share from $15.14 over the past seven days. This positive trend signifies bullish analysts' sentiments, indicating robust fundamentals and the expectation of outperformance in the near term.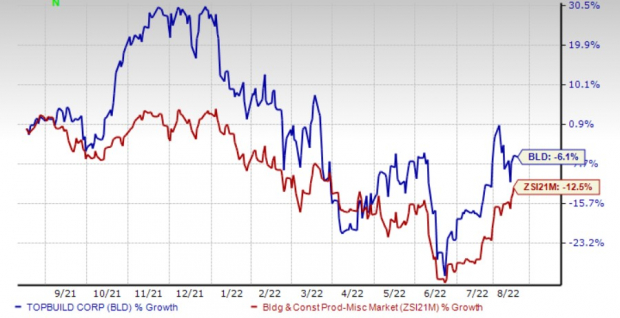 Image Source: Zacks Investment Research
However, continuous supply-chain disruptions and higher raw material and labor costs are causes of concern for this Zacks Rank #3 (Hold) company. You can see the complete list of today's Zacks #1 Rank (Strong Buy) stocks here.
Let's delve deeper into the driving factors.
Solid Operational Model: The company has solid business operational models, comprising Installation and Specialty Distribution segments. The Installation segment primarily installs insulation and other building products, while Specialty Distribution segment mainly sells and distributes insulation and other building products. Given the solid model, the company has been recording solid earnings and revenue growth over the last few quarters. During first-half 2022, the company's sales increased 57.4%, adjusted earnings per share grew 65.7%, adjusted gross margin expanded 130 basis points (bps), and adjusted EBITDA margin expanded 140 bps from the prior-year period. The impressive margin expansion led to increased profitability, depicting a flexible operating model and its ability to quickly reduce costs.
Upbeat View: Given the continued improvement of the commercial and industrial mechanical insulation end markets, TopBuild now expects sales between $4.80 billion and $4.90 billion for 2022 versus $4.65-$4.80 billion expected earlier. The estimated figure indicates an increase from $3.49 billion. Adjusted EBITDA is now projected within $860-$900 million compared with $810-$860 million projected earlier. This suggests growth from $605.9 million reported in 2021.
The Zacks Consensus Estimate for 2022 earnings of $15.36 per share calls for 41.6% year-over-year growth. The solid growth rate depicts the stock's promising future.
Inorganic Strategy: BLD's systematic inorganic strategy has been supplementing organic growth and expanding access to additional markets and products. So far in 2022, BLD has made four acquisitions, which are expected to contribute $15.7 million in annual revenues. On Apr 7, 2022, BLD acquired one residential insulation company, Assured Insulating, which serves markets in Northeastern Texas and Northwestern Louisiana. Prior to that, on Mar 31, 2022, it acquired Green Energy, an insulation company located in Oregon. Prior to that, on Feb 3, 2022, TopBuild acquired Billings, a residential insulation installer serving the Montana and Northern Wyoming markets. On Jan 12, 2022, BLD acquired Southwest, an insulation company in Florida.
The company has a strong pipeline of prospective acquisitions, mainly focused on the insulation business, which accounted for 79% of the Installation segment's sales in 2021.
Higher ROE: TopBuild's superior return on equity (ROE) is also indicative of its growth potential. The company's ROE currently stands at 27.8% compared with the industry's 6.3%. This indicates efficiency in using shareholders' funds and the ability to generate profit with minimum capital usage.
3 Construction Stocks to Buy Now
Some better-ranked stocks, which warrant a look in the Construction sector, include United Rentals URI, Arcosa ACA and Primoris Services Corporation PRIM.
United Rentals — currently carrying a Zacks Rank #2 (Buy) — is the largest equipment rental company in the world.
URI's expected earnings growth rate for 2022 is 40.7%. The Zacks Consensus Estimate for current-year earnings has improved 5.4% over the past 30 days.
Arcosa — sporting a Zacks Rank #1 — is a manufacturer of infrastructure-related products and services which serves construction, energy and transportation markets.
ACA's expected earnings growth rate for fiscal 2022 is 7.8%. The Zacks Consensus Estimate for current-year earnings has improved 13.7% over the past 30 days.
Primoris — a Zacks Rank #2 company — is a specialty contractor company operating in the United States and Canada. A robust backlog level of more than $4 billion and solid contract awards in the Energy/Renewables and Utilities segments depict incredible momentum in the future despite the supply chain and permitting challenges. Utility-scale solar projects continued to drive the progress of the Energy/Renewables segment.
Primoris' earnings for 2022 are expected to grow 18.4%.
7 Best Stocks for the Next 30 Days
Just released: Experts distill 7 elite stocks from the current list of 220 Zacks Rank #1 Strong Buys. They deem these tickers "Most Likely for Early Price Pops."
Since 1988, the full list has beaten the market more than 2X over with an average gain of +24.8% per year. So be sure to give these hand-picked 7 your immediate attention. 
Want the latest recommendations from Zacks Investment Research? Today, you can download 7 Best Stocks for the Next 30 Days. Click to get this free report
 
United Rentals, Inc. (URI): Free Stock Analysis Report
 
Primoris Services Corporation (PRIM): Free Stock Analysis Report
 
TopBuild Corp. (BLD): Free Stock Analysis Report
 
Arcosa, Inc. (ACA): Free Stock Analysis Report
 
To read this article on Zacks.com click here.
 
Zacks Investment Research
The views and opinions expressed herein are the views and opinions of the author and do not necessarily reflect those of Nasdaq, Inc.
https://www.nasdaq.com/articles/heres-why-investors-should-hold-on-to-topbuild-bld-stock